Category Archives: Testimonials
"I found your garlic bread at Wegmans for the first time over the holidays, and it was so much more delicious than I assumed it would be! I'm so happy my mom and 11 year old daughter (both with celiac disease) can have garlic bread again. I made a special trip today so my daughter could have it for dinner tonight. Can't wait to try more of your products. Makers of delicious gluten-free food (which there are not enough of) do more than sell a product – they sell happiness to parents of kids with celiac disease!"
Thank you to Jessica Prado Hanson for another awesome, honest review. This time she had our stuffing, croutons, and pumpkin pie for Thanksgiving and share with her family. See how much her dad enjoyed the meal.  http://bit.ly/2hVR1PT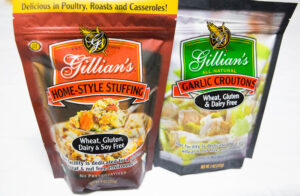 "Thank you for making such delicious garlic bread! We have found that the hardest part about having celiac is finding good bread. Your garlic bread is perfect. We can't wait to try your other breads." – See what this customer is talking about! Can't find it where you get your other Gillian's Foods products? Provide the store manager with this sheet. https://goo.gl/3aBvXx
"I just wanted to say thank you for making a product that is gluten free and dye free! I think I may have tried you cupcakes at the gluten free expo and I was so excited when I saw them in our new market basket! I have a child with celiac and a child with a diagnosed sensory disorder which is why we try to avoid dye! Your cupcakes are amazing and thanks again for making a great product!"
Another great review! "We tried your rolls for the first time at Not Your Average Joes in Norwell. We loved them but we couldn't find them anywhere.  We didn't realize you have a web site you can buy them too.  They are fabulous!!  A true game changer in our house where three out of four are gluten free.  You guys need to be everywhere- anytime I come across bad bread at a restaurant I will be telling them about your product. Keep up the great work!  I also love the story how this roll was created – a dad making it for the love of a daughter – well that is why it is so good!! "
"Oh, the cupcakes… I wanted to drop you a line regarding your GF Cupcakes. My local Market Basket now carries the Vanilla cupcakes. I had to try them to see if they were a better alternative to other GF baked desserts, which tend to be on the dry side. We have a winner !!! Your cupcakes are as moist as any I've ever had and the frosting is spot on.
Thank you, thank you, thank you …"
Hello – I just bought a package of your pie shells at Whole Foods in Virginia Beach, VA. I made a pumpkin pie (my first ever!). The crust is fabulous. Thank you for this wonderful gluten free product and NO sugar.That is a hard combination to find. I hope Whole Foods will carry more of your products.- P.G.
Have to tell you, swapped out the sausage for andouille sausage, added mushrooms, red pepper & some thyme, dropped the butter to 2 tbs & added a couple cups of cooked brown rice. I finally feel like I'm eating real food again after a multi food allergy diagnosis in my late 30's following a medically complicated pregnancy. This tastes just like the foods I've been missing, texture is a huge problem for me gluten-free & your products hit the mark, thank you from a customer having a Happy Thanksgiving!
I just wanted to let you know that i used your frozen gf pizza dough to make cinnamon rolls. They were awesome!
I was recently diagnosed with MS and the first month after diagnosis was the most challenging. I read all I could and decided to change my eating habits. I removed dairy, gluten, and decreased my saturated fat intake. I didn't have much trouble ridding my diet or dairy or saturated fat but I did find it hard to give up bread. Gluten free products were costly and many were bland. I found your product one evening by ordering a gluten free onion roll at Not Your Average Joes. It was so good I purchased a pack that same evening. My entire family actually prefers them over regular wheat dinner rolls. Lifestyle and dietary changes are hard especially when brought on my physical illness. Thanks for making me feel "normal" again
Thank you so very much for your quick and detailed response! I completely understand the issue and will most definitely continue to order directly from you. Really, I'd much rather order direct anyways to better support your efforts.
I can't tell you how much of an impact your product has made on us. For my now 12 year old girl, being the "odd man out" has been a daunting task for us over the past four years (when we first found her sensitivities). My daughter wen through years of GI issues and we became experts on the FODMAP diet. There was a time that lunches were a great source of anxiety for all of us- what to make, how to eat so as not to draw extra attention, how to blend in. While we've gotten over most of that, she's pretty happy to know she can make a killer sammy or enjoy bread with dinner that tastes amazing. Truly, we have tried every type of GF bread product. We made a game out of it and would literally have tasting panels in our kitchen. I tried to make my own– something I vow to never do again and tip my hat to those of you that can make that work.
Please, keep doing what you're doing. We will continue to be fans!
I love your products they taste amazing and the price is great!!
"I cannot begin to thank you! I have not had a decent piece of pizza since I was diagnosed with Celiac 4 years ago UNTIL tonight. I almost ate the entire pizza, who knows- if I go by the kitchen again I may polish it off. I must say that you aided in the destruction of a week of weight watchers but what fun it was! Thank you, Thank you, Thank you!!! I am going back to the store tomorrow to tell them how good it is as I clear out their stock. I also called my Dad and told him his days of eating cardboard pizza are over too. I honestly do not know who you made happier, myself and my Dad who suffer from Celiac or my husband and Mom who rarely get to eat pizza anymore because they live with celiac sufferers. My compliments to the Chef!!!!"
"At last, a Gluten Free apple pie, and it's delicious. The apples aren't too sweet. The crumb topping is crunchy. And it came by UPS, ready to pop in the oven. Thanks Gillian's. Oh, and the 'everything' dinner rolls are a big hit here too! You have a new fan."
"After 3 years trying different breads and not finding any thing close to real bread. I happened to see your French bread at a store that has gluten free products. Well, the rest is history. Your bread is delicious and is so close to actual bread made with regular flour. I no longer feel deprived of not being able to eat bread. Also have bought the Cinnamon Raisin bread and it is also delicious. Thank you for providing this product."